News
Saturday 9th November 2019
---
There are lots of exciting developments here at Sheffield Narrowboats.
Click the links below to find out more.
New canalside base in Sheffield
We're delighted to announce the acquisition of a new canal-side base for Sheffield Narrowboats.
Two minutes from Victoria Quays - we've just completed the cash purchase of the freehold property at 2 Canal Street.
We've named the wharf "Albert Wharf", as we're close to Victoria Quays, it seemed to make sense.
Not only does this provide us with a new base, and somewhere to fit out new boats, it also means we can now offer secure parking.
Narrowboat Tasters Sessions
We're now offering short narrowboat taster session from Sheffield for those who've never been aboard a narrow boat, and want to know what it's like.
Find out more here.
Our YouTube channel launched!
We're pleased to announce the launch of our own little corner of the online video site YouTube.
At present there are some time-lapse videos compiled from footage taken during our "hands-on research cruise" undertaken during July 2009 - including the new Liverpool Link (we've another article about that here), a time-lapse cruise along, and brief history of the Sheffield Canal from Tinsley to Victoria Quays and a short video of the traditional boaters' outing on bonfire night for the Sheffield 'After Dark' fireworks display at Don Valley Stadium next to the canal.
Find it here: www.youtube.com/SheffieldNarrowboats
Free online photograph albums
We're now offering free online photograph albums for all customers.
This offers the opportunity to have a permanent record of your holiday to
share amongst family and friends and also gives potential customers an idea of
what to expect.
Help us name our new boat!
We're planning to add a brand new 57 foot semi traditional narrow boat to our collection.
As usual, there's more debate here in the office about the name we should give her than anything else.
Cast your vote to help us decide on the (current) top three suggestions
Buy Boating Bits - our online shop goes LIVE!
We are absolutely delighted to announce the launch of our online shop - selling odd bits and bobs that we've found essential over the years, including the Nautilarm marine security solution as used on all our own boats.
Safe and secure, the shop isn't intended as a large online chandlery, we're just selling stuff we use ourselves.
CLICK HERE to go there! 
Environmental Impact and Carbon Audit
We're embarking upon an environmental journey!
During the 2009 season we're taking detailed measurements and making scientific calculations on every aspect of our operations.
This obviously includes calculating our Carbon Footprint (based upon things like fuel used, gas, even the amount of stern grease) and making an assessment of the carbon used to build, fit and maintain our boats.  We're even looking at the paint we use, and how many bow fenders we get through!  More importantly, this feeds into our overall aim of assessing our impact upon the environment.
We believe boating to be one of the most environmentally friendly ways of enjoying an extended holiday, but for this to be proven, we need the evidence.  Trouble is, how much do we include?  Do we weigh the fact that a customer has chosen not to fly away to distant climes this year?  Do we also count our overseas customers, and their carbon use during their flight getting here?
Many questions, many calculations...
Watch this space :-)
Free RYA Inland Waterway Helmsman Course on ALL bookings
New for 2009
To enhance your experience and get you off to the finest of starts, we include a RYA Helmsman Course with all bookings.
We ran a trial of offering the course free to all longer term hires in 2007/2008 and this was such a great success that we have decided to offer it, free of charge, to all of our customers.
This is in addition to our own extensive introduction, boat training and handover.  The RYA Helmsman Course is fully accredited and Internationally recognised. 
Course content includes:
Deck Work

Mooring

Ropes and knots

Helmsmanship

Boat Handling

Personal Safety

Boat Safety

Engines

Locks

Bridges

Tunnels

Collision avoidance

Care of the Environment

 
An RYA Certificate is issued upon successful completion of the course, and this can be used towards the International Certificate of Competence.
This does not replace our own thorough introduction to your boat.  We will still spend as much time as you need, in order to ensure you're fully confident and happy to set off on your Experience 'in full control'.
Why are we doing this?
We take boating, the waterways, our envoronment and safety very seriously.  Many of our customers come to us as they're contemplating a life aboard their own boat, others embark on an adventure of a lifetime, some just go away for long periods and explore the UK from the towpath on an extended holiday.  ALL however, will become, to a greater or lesser extent, 'real boaters' during their experience.  The RYA Helmsman Course combined with our own training provides the best possible start you can get for you experience, unmatched by ANY hire company in the UK.
We see this as a central part of our attempt to raise the standards within the UK hire industry.
Sheffield Hire Base a success

(Victoria Quays - Sheffield Canal Basin) 
We pride ourselves on our overall flexibility, offering totally flexible start and finish points for your Experience, anywhere on the Inland Waterway network, and indeed this will always be one of our foundation stones of operation.
However...
We had numerous and repeated queries about operating some boats from Victoria Quays (Sheffield Canal Basin).
Sheffield is not generally thought to be an ideal start point as it takes a couple of days to get anywhere, and has links via some commercial waterways and tidal rivers - which for a novice can seem a little daunting.  For these reasons we've historically tended to avoid using Sheffield as a start point - unless one of our customers has chosen to end their Experience here.
Being customer guided we your comments on board (excuse the pun) and started to trial one dedicated boat as our 'Sheffield Hire Boat' for 2008-2009.  This was a break with our 'start anywhere, finish anywhere' tradition, for the first time offering a 'start and end at Sheffield' Experience.
It has proved such a success that we have decided to extend the trial to cover the 2010 and 2011 seasons.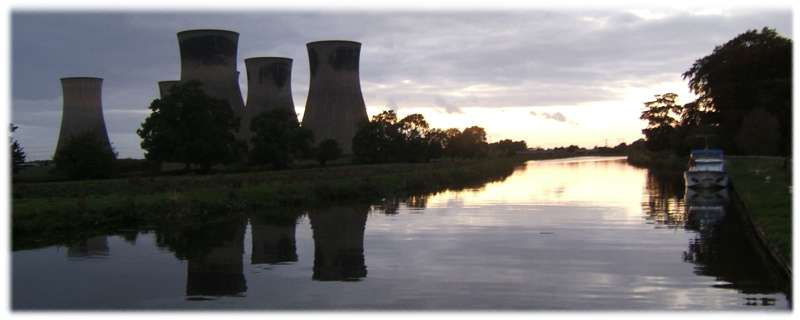 (Cooling towers at the disused Thorpe Marsh Power Station at dusk)
Having mentioned the potential downsides of having Sheffield as a start point, we reckon it's also worth mentioning some of the quite unique positive points, not least the remarkable insight into the local industrial and waterway heritage, glimpse into the last remnants of commercial inland waterway operations (large sand barges, and tankers abound on the Aire and Calder, don't worry, they're quite 'narrowboat friendly' and you'll seldom have any issues, if at all).
Sheffield also acts as an ideal start point to explore the under-rated delights of the Northern waterways - which, unlike the busy and often congested popular tourist waterways of the Midlands, offer miles of peaceful, quiet cruising on well maintained and pleasant canals and river navigations.
Although suited mainly for customers with experience of broad canal and tidal river navigation, we offer a free RYA Helmsman Course for those with little or no experience.  Don't worry too much about your level of confidence or competence, our boats cost a fortune and we're not going to allow you to set off unless you are totally happy in all aspects of boat handling, navigation and safety.  As always, our overall aim is to ensure you get the very best of positive life-changing experiences during your time afloat, and we're here to ensure you set off happy and fully in control, not worried that something may go wrong if you meet the Rix Owl oil tanker on the river Aire (we've met her, she's big!).
Full details of our Sheffield Hire are available here.